CANDLE MINISTRY ALTAR SERVICES:
HOW WE CAN SET LIGHTS
FOR YOUR SPIRITUAL AID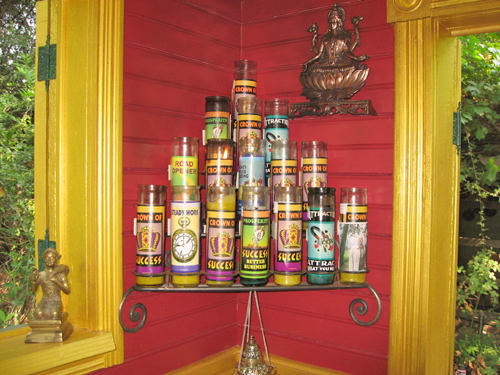 PROSPERITY, MONEY, AND LUCK CANDLE ALTAR
AT MISSIONARY INDEPENDENT SPIRITUAL CHURCH
LET US SET SPIRITUAL LIGHTS FOR YOU

If you cannot burn vigil or novena candles in your home for any reason -- for instance, because of safety concerns or because you do not want anyone in the home to see them burning -- we will prepare, pray over, and set lights for you here on the consecrated altars of Missionary Independent Spiritual Church. We will do the work of dressing the candles with herbs and oils, affixing Petitions, praying over each candle on your behalf, and mailing you a Candle Report after the light is finished, giving you an interpretation of the outcome based on the ancient art of ceromancy, or divination by wax. The charge is $35.00 per candle, with discounts offered for longer runs of lights.

If you wish to have prepared candles shipped to you for YOU to burn, please see prices at
TYPES OF CANDLES

Here are the types of candles offered by the Missionary Independent Spiritual Church Candle Ministry, which we will set for you on our altars:
HOW TO MAKE YOUR PETITION

In order to set lights for you on one of our altars, we would like to know your name, the name of the person for whom the candle is being set (yourself or someone else), and your request regarding the situation. It helps us if you can also tell us the birth-dates of the parties involved and send a picture of the persons for whom the candles are being set.

Please enter your Petition or Prayer Request in the Message field when you place your candle order. If you do not include a Prayer Request or Petition in the Message field of your order, we will make a general Prayer Petition for the success of your work, according to the type of candle you have ordered. We do not accept separate emails or telephone calls for Petitions.

If you are requesting several candles to be set and feel that the Message field is too short, you may order several candles, one at a time, each with its own Petition.

We have four altars for prayer requests -- (1) money, luck, prosperity, and career success; (2) love, romance, sex, reconciliation, and friendship; (3) enemy work, hot footing, cursing, and reversing evil to the sender; and (4) blessing, healing, wisdom, and protection: If you do not indicate on which altar you wish your light to be set we will choose the most appropriate altar for you.
HOW TO SEND US PICTURES

If you wish us to affix photographs to your candles, please send them to us as an attachment in an email to this address: photos@missionaryindependent.org (click here).

Please title your email "Photos For Candle Petition" in order to assure that the email is handled correctly. When sending photos, please remember that your Petition must be included in the Message area of your order, as we do not accept Petitions by email.

If you anticipate becoming a regular client of our Candle Ministry, we advise you to send us pictures of all relevant persons, places (and even pets) -- and we will keep them on file for future Petitions. One we have the pictures on file, you can request that we use them any time that you have a Petition to make on a pictured individual.

Pictures postally mailed to us for use on the altars cannot be returned. Please send pictures via email attachment.
SETTING LIGHTS IN RUNS

This is also known as a Sequential Burn in Runs or a Continual Candle Service: You designate how many candles in a sequence you wish to have set of each type. We will dress your candles with herbs and oils, print out and affix Petitions, pray over each candle on your behalf, and email you an interpretive Candle Report after the light is finished.

We dress and pray over the entire run of candles at one time and write up one Petition. As each candle expires, we transfer the Petition to the next candle in the series, thus keeping your Petition on the altar at Missionary Independent Spiritual Church for as long as you feel is necessary.

Sequential Burns can be made in runs of 3, 7, or 13 candles. You can combine Sequential Burns for a longer Continual Candle Service if you wish.
PRE-DATED SETTING OF LIGHTS

Many times people need lights set for an event that they know is coming well in advance -- a scheduled operation, for instance, or a court date, or a test date.

If you order your candle sufficiently in advance and request (in your Petition) that your light be going on a certain date, we will hold it until THE DAY BEFORE that date and light it at that time. The reason that we light your Pre-Dated candle one day in advance is to be sure that it is going well and strong when your important date arrives.

You may also wish us to hold your candles because you want to schedule a tandem or simultaneous burn, in which you order a fixed candle to be shipped to you by the Lucky Mojo Curio Co. while we fix a candle for you at the church and keep it unlit until you receive your candle and telephone us so that we can both light our candles at the same time.
LEARN MORE

To study the use of candles with magic spells and prayer, buy this book:

by catherine yronwode and Mikhail Strabo,
published by Missionary Independent Spiritual Church.

Free instructional information on candle magic can be found on this web page:

HOODOO
GLASS ENCASED VIGIL CANDLES

These candles have colourful paper artwork labels with spells and prayers on the back. They are made of soft wax in colours appropriate to the conditions for which they are used. The candles will burn continually for at least 120 hours. The fact that they stay alight for many days has earned them the name "vigil lights." It is customary at our Candle Ministry to dress them with anointing oils as they are burned.



---

Adam and Eve Candle
Set On Our Altar

To draw love, increase sexual passion, keep a couple close.

CAN-MIS-ADAM

---

Attraction Candle
Set On Our Altar

To draw love, money, friends, or anything you desire and request.

---

Bayberry Candle
Set On Our Altar

A Bayberry candle, burned to the socket, brings luck to the home and gold to the pocket.

---

Bewitching Candle
Set On Our Altar

For enthralling, beguiling, and ensorceling a lover.

---

Black Arts Candle
Set On Our Altar

To aid while raising spirits, performing sorcery, and making pacts.

---

Black Cat Candle
Set On Our Altar

For luck with lotteries, dice, card games, races, and all forms of gambling.

---

Blessing Candle
Set On Our Altar

To help those in need; for blessings received; to ease sorrow and pain; for remembrance.

---

Block Buster Candle
Set On Our Altar

Used to blow apart blockages and obstacles that have been thrown in front of you.

---

Boss Fix Candle
Set On Our Altar

If your boss isn't right with you, bring him around to favour your cause.

---

Break Up Candle
Set On Our Altar

To drive a couple apart by causing them to quarrel and fight.

---

Cast Off Evil Candle
Set On Our Altar

To rid yourself or those you love of bad habits and to break links to bad companions.

---

Chango Macho (Shango, Xango, Sango) Candle
Set On Our Altar

For invocation of and petition to the African Yoruba Orisha Chango.

---

Chuparrosa (Hummingbird) Candle
Set On Our Altar

Prayer to the Divine Hummingbird (a Native American deity) for an honest love relationship.

---

Clarity Candle
Set On Our Altar

To put an end to confusion and unknowing; for insight and true vision.

---

Come To Me Candle
Set On Our Altar

To draw the man or woman desire closer to you in love, sex, and passion.

---

Command - Compel - Control Candle
Set On Our Altar

For command and leadership power over persons and situations.

---

Confusion Candle
Set On Our Altar

Said to bring confusion and befuddlement to those who are working against you.

---

Court Case Candle
Set On Our Altar

Burn before and during court appearances to get justice and influence the court.

---

Crossing Candle
Set On Our Altar

To mess up an enemy, to create crossed conditions in their life.

---

Crown of Success Candle
Set On Our Altar

For desired results when taking tests, seeking a job, playing sports, etc.

---

Crucible of Courage Candle
Set On Our Altar

Alleged to increase one's personal determination, courage, and bravery.

---

Cut and Clear Candle
Set On Our Altar

To completely remove old influences and failed relationships from your life.

---

Damnation Candle
Set On Our Altar

Utilized when cursing a wrong-doer to suffer in Hell for his or her crimes.

---

Destruction Candle
Set On Our Altar

For the destruction of enemies.

---

Devil's Candle
Set On Our Altar

Used by those who wish to harm others or to do mischief to them.

---

Dixie Love Candle
Set On Our Altar

A Southern-style love-drawing formula for men or women. Contains genuine Dixie John Root.

---

Domination Candle
Set On Our Altar

For those who wish to rule others and control them.

---

Double Cross Candle
Set On Our Altar

Used to dress gifts that are actually intended to harm another.

---

D.U.M.E. (Death Unto My Enemies) Candle
Set On Our Altar

Contains a blank Black List (Lista Negro) for the names of your enemies.

---

Essence of Bend-Over Candle
Set On Our Altar

Burned to gain control of another person, to bend them over to your will.

---

Fast Luck Candle
Set On Our Altar

For gambling luck, luck in love, and luck in business.

---

Fear Not To Walk Over Evil Candle
Set On Our Altar

Protection against messes that have been laid down for you.

---

Fiery Wall of Protection Candle
Set On Our Altar

To keep the house safe, to protect people from enemies.

---

Fire of Love Candle
Set On Our Altar

For passionate desire; as the flame burns, so does love burn.

---

Follow Me Boy Candle
Set On Our Altar

Used to make a man follow one, emotionally, sexually, and in all ways.

---

Follow Me Girl Candle
Set On Our Altar

Southern style formula, said to make a woman follow you like a dog.

---

Good Luck Candle
Set On Our Altar

A bright light for gambling luck, luck in love, and luck in business.

---

Healing Miracle Candle
Set On Our Altar

To bring comfort, healing, help, and rest to those who are sick.

---

Hot Foot Candle
Set On Our Altar

Used when driving away enemies and moving them out.

---

House Blessing Candle
Set On Our Altar

To bless the home and the family; often used when moving to a new home.

---

Indian Spirit Guide Candle
Set On Our Altar

For veneration to Native American ancestors, burned for guidance and luck.

---

Influence Candle
Set On Our Altar

Used by those who seek to influence the thoughts or actions of others.

---

Intranquil Spirit (Espiritu Intranquilo) Candle
Set On Our Altar

Used with a famous prayer to cause an ex-lover to suffer until he returns.

---

Jezebel Glass Vigil Candle
Set On Our Altar

Used in the curse of Jezebel; also used by prostitutes to attract wealthy customers.

---

Jinx Glass Vigil Candle
Set On Our Altar

Traditional for cursing work, to place bad luck upon an enemy.

---

Jinx-Killer Glass Vigil Candle
Set On Our Altar

To lay a jinx or curse of bad luck to rest by destroying its effect. .

---

John the Conqueror Candle
Set On Our Altar

For strength, luck, personal nature, and conquering power.

---

King Solomon Wisdom Candle
Set On Our Altar

Burned at home while taking tests or examinations at school or work.

---

Kiss Me Now! Candle
Set On Our Altar

For quick and easy sexual contacts, pleasure, and joy.

---

Lady Luck Candle
Set On Our Altar

Burned while at casino play, for luck in gambling.

---

Lavender Love Drops Candle
Set On Our Altar

For love, passion, and happiness with a person of the same sex.

---

Law Keep Away Candle
Set On Our Altar

Burned by those who wish to conduct their business in private.

---

Lodestone (Piedra Iman) Candle
Set On Our Altar

For drawing whatever is needed in money or love; used with lodestone spells.

---

Look Me Over Candle
Set On Our Altar

Used in glamor spells to attract attention, particularly from men.

---

Love Me Candle
Set On Our Altar

To draw passionate love from a specific party of the opposite sex.

---

Lucky 13 Candle
Set On Our Altar

For lottery and bingo play; uses unlucky conditions to generate good luck.

---

Lucky Buddha Candle
Set On Our Altar

To attract luck and wealth through the help of Hotei, "the Laughing Buddha.".

---

Lucky Hand Candle
Set On Our Altar

Popular with gamblers, who say it brings in the winnings.

---

Lucky Mojo Candle
Set On Our Altar

For all kinds of luck in gambling, business, love, and sports.

---

Lucky Number Candle
Set On Our Altar

For catching lucky numbers to bet.

---

Magnet Candle
Set On Our Altar

For drawing whatever is needed in money or love; used with magnet spells. .

---

Marriage Blessings Candle
Set On Our Altar

To attract a proposal of marriage, to bless a new marriage (a nice, small wedding gift).

---

Master Key Candle
Set On Our Altar

Said to powerfully aid one's ability to control situations and people.

---

Master Candle
Set On Our Altar

To master situations, master others, and master secrets of the occult.

---

Money Drawing Candle
Set On Our Altar

To attract money through gambling luck and in business matters.

---

Money House Blessing Candle
Set On Our Altar

Combines Money Drawing and House Blessing for a prosperous, happy home.

---

Money Stay With Me Candle
Set On Our Altar

To keep money around you in personal and business matters.

---

Moses Candle
Set On Our Altar

Scribe of the Torah; reputed author of the 6th, 7th, 8th, 9th, and 10th Books of Moses.

---

Pay Me Candle
Set On Our Altar

To settle old accounts and get money that is coming to you.

---

Peaceful Home Candle
Set On Our Altar

For pleasant, peaceful family relationships in a happy home.

---

Power Candle
Set On Our Altar

Believed to increase your personal strength and spiritual power.

---

Prosperity Candle
Set On Our Altar

Burned at home, business place, or shop for more customers and steady income.

---

Protection Candle
Set On Our Altar

To keep away all harmful influences.

---

Psychic Vision Candle
Set On Our Altar

To induce second sight, aid meditation, and bring in beneficial dreams.

---

Reconciliation Candle
Set On Our Altar

To forgive and forget past problems, fights, and break-ups, to fall in love again.

---

Return To Me Candle
Set On Our Altar

To bring back a friend or lover who has walked out or left.

---

Reversing Candle
Set On Our Altar

Used in sending jinxes and curses back to the one who sent them.

---

Road Opener Candle
Set On Our Altar

Burned when starting new projects to clear away enemy blockages and old messes.

---

Rose of Crucifixion Candle
Set On Our Altar

To abolish fear and soothe a troubled mind.

---

Run Devil Run Candle
Set On Our Altar

Said to drive the Devil and his imps away.

---

Safe Travel Candle
Set On Our Altar

Burned by those at home for the safety of friends and family who are travelling.

---

Secret Desires Heart / Mind / Body Candle
Set On Our Altar

Three separate places to write the secret desires of your heart, mind, and body.

---

Separation Candle
Set On Our Altar

To create confusion and discord between two people and drive them apart.

---

Stay At Home Candle
Set On Our Altar

To keep your lover or spouse at home by your side and stop them running around.

---

Stay With Me Candle
Set On Our Altar

To encourage fidelity, loyalty, and a long-term relationship without separations.

---

Steady Work Candle
Set On Our Altar

To find a job, get a job, and keep a job; to avoid being laid off.

---

Stop Gossip Candle
Set On Our Altar

To shut the mouths of from back-biters and gossips in the family or on the job.

---

Three Jacks and a King Candle
Set On Our Altar

Very popular with those who play at cards and other games of chance.

---

Uncrossing Candle
Set On Our Altar

To quickly lift crossed conditions, hexes, or jinxes and restore good luck.

---

Victory Candle
Set On Our Altar

For winning and as a thanks-offering for victories that have been won.

---

World Peace Vigil Light
Set On Our Altar

Harmony, negotiation, diplomacy -- no more war.

---




UNLABELLED PLAIN
GLASS ENCASED VIGIL CANDLES

For those who wish to burn candles but don't want church visitors to know their business, the Missionary Independent Spiritual Church Candle Ministry offers symbolically coloured candles, fixed and prepared with herbs and oils, but WITHOUT LABELS. Please choose them according to the colour symbolism given here. You may include a Petition, of course, even if the candle itself bears no label.



---




CATHOLIC RELIGIOUS
GLASS ENCASED NOVENA CANDLES

These candles have full-colour paper labels depicting Jesus, Mary, angels, saints and other Christian religious figures, with sample prayers for use. They are made of soft wax in appropriate colours and will burn continually for at least 120 hours. The fact that stay alight for many days and are used in conjunction with Catholic novenas (nine-day prayers) has earned them the name "novena lights." Note that the candles themselves do not burn for nine days. You will need at least 2 of them set sequentially in order to burn them for a full 9 days.



---

Saint Agatha Candle
Set On Our Altar

Patron of those suffering from breast cancer who is called on for protection from house fires, lightning, volcanic eruptions, and sexual assault.

---

All Saints Candle
Set On Our Altar

An appeal to entire panoply of Saints in Heaven.

---

Anima Sola (Lonely Soul) Candle
Set On Our Altar

Image of woman chained in flames; to harm and release from harm.

---

Archangel Gabriel Candle
Set On Our Altar

God's Messenger; patron of telecommunication workers, dream interpretation, and conception.

---

Archangel Metatron Candle
Set On Our Altar

Archangel of Sacred Geometry, also believed by some to be the Archangel of the New Age.

---

Archangel Michael Candle
Set On Our Altar

Like Unto the Lord -- defender of Heaven and Earth; patron of policemen, a powerful protector.

---

Archangel Raphael Candle
Set On Our Altar

Archangel of protection to young travellers; helper and healer of the blind, patron of fishermen.

---

Archangel Uriel Candle
Set On Our Altar

Archangel of light, patron of poets, artists, and musicians.

---

Saint Francis of Assisi Candle
Set On Our Altar

Appealed to for the health, well-being and protection of all animals; facilitates dream contact between deceased pets and their owners.

---

Guardian Angel Candle
Set On Our Altar

Famed image of boy and girl on bridge with Angel; for protection.

---

Dr. Jose Gregorio Hernandez Candle
Set On Our Altar

Venezuelan Dr. Hernandez, patron of medical students, is known for his healing miracles.

---

Holy Family Candle
Set On Our Altar

Jesus, Mary, and Joseph in a garden, the Holy Spirit dove between them.

---

Holy Trinity Candle
Set On Our Altar

Jesus and God the Father seated in Heaven, the Holy Spirit dove between them.

---

Infant Jesus Glass-Encased Candle, Fixed
Set On Our Altar

The Infant Jesus as a cute, blond curly-top, visiting your home.

---

Jesus the King Candle
Set On Our Altar

Enthroned Jesus holding the globe; prayer for mercy and restoration.

---

Jesus Sacred Heart Candle
Set On Our Altar

Compassionate, gentle Jesus reveals his sacred heart.

---

Just Judge Justo Juez Candle
Set On Our Altar

Jesus crucified, burn before and during court appearances for justice and mercy.

---

Saint Lazarus Candle
Set On Our Altar

Patron saint of lepers, the sick, and those with AIDS, he also brings wealth to the poor.

---

Jesus Malverde Candle
Set On Our Altar

His help is sought by drug-runners, those who traffic in illegal immigration, and others outside the law.

---

Mano Poderosa Candle
Set On Our Altar

Hand of Jesus supporting Saints, with Angels and Tools of Crucifixion.

---

Maximon (San Simon) Candle
Set On Our Altar

Patron of Guatemala; ancient Mayan god represented as a black-suited peasant.

---

Saint Nicholas Glass-Encased Candle
Set On Our Altar

Patron of bakers, brewers, brides, children, pawnbrokers; Santa Claus.

---

Nino de Atocha Candle
Set On Our Altar

Helps those in prison, kidnapped, missing, or living under political terrorism.

---

Nino Fidencio Candle
Set On Our Altar

Mexican folk saint and healer whose herbal cures were based in ancient native practices.

---

Saint Patrick Candle
Set On Our Altar

Patron Saint of Ireland and those of Irish descent; wards off snake-bite.

---

Infant of Prague Candle
Set On Our Altar

To insure good weather -- particularly on one's wedding day.

---

Seven African Powers (Siete Potentias) Candle
Set On Our Altar

Seven Catholic Saints representing 7 African Orishas, plus Justo Juez.

---

Saint Anthony (San Antonio) Candle
Set On Our Altar

Saint Anthony is said to help ion the return of lost things and missing people.

---

Saint Barbara Candle
Set On Our Altar

Saint Barbara aids those in need of strength; she is also associated with the Orisha Chango.

---

Saint Christopher Candle
Set On Our Altar

Saint Christopher is the Patron of motorists and travellers.

---

Saint Clara Candle
Set On Our Altar

Patron saint of Television, healthy eyesight, and The Crystal Silence League.

---

Saint Cyprian Candle
Set On Our Altar

Saint Cyprian is the Patron of occultists and spiritual workers.

---

Saint Dymphna Candle
Set On Our Altar

Saint Dymphna is the Patron of victims of child sex abuse, incest, rape, and the mentally ill.

---

Saint Expedite Candle
Set On Our Altar

Saint Expedite brings luck in a hurry; light his candle on a Wednesday for quick results.

---

Saint Joan of Arc Candle
Set On Our Altar

Saint Joan is the Patroness of France and the protector of all women soldiers.

---

Saint Joseph with Jesus Candle
Set On Our Altar

Patron of workers; Saint Joseph aids those wishing to sell real estate.

---

Saint Jude Candle
Set On Our Altar

Patron Saint of lost causes; prayer "to be said in cases despaired of.".

---

Saint Martha Dominator Candle
Set On Our Altar

Patron saint of servants and women who wish to rule and control.

---

Saint Martin Caballero Candle
Set On Our Altar

A Roman Centurion who shares his cloak with a beggar; draws money and customers.

---

Saint Martin de Porres Candle
Set On Our Altar

For charity and especially for the improvement of racial relations.

---

Saint Therese of Liseiux Candle
Set On Our Altar

The Little Flower. Appealed to for help with chronic diseases in the young, lung afflictions, and HIV/AIDS. She is also the patron of florists, aviators, and mission workers.

---

Santisima Muerte (Santa Muerte, Holy Death) Candle
Set On Our Altar

Ancient Aztec goddess of the underworld transformed into woman's keeper of mens' fidelity.

---

Saint Peter Candle
Set On Our Altar

Patron of fishermen, ship-builders, stone cutters, locksmiths, and those with fevers.

---

Saint Raymond Nonnatus (San Ramon) Candle
Set On Our Altar

Patron saint of those falsely imprisoned and of pregnant women wishing an easy labour.

---

Virgin Our Lady of Caridad del Cobre Candle
Set On Our Altar

Petition Our Lady of Caridad del Cobre, Virgin of miraculous help; patroness of Cuba and popular among sailors, for freedom, charity, and blessings.

---

O.L. Maria Dolorosa Candle
Set On Our Altar

Petition Our Lady Maria Dolorosa of Mount Calvary, the sorrowful Virgin pierced by a jewelled sword surrounded by flaming hearts, for help for the broken-hearted.

---

Virgin Our Lady of Grace Candle
Set On Our Altar

Virgin of miraculous help; Patroness of Cuba and popular among sailors.

---

Virgin of Guadalupe Candle
Set On Our Altar

Petition Our Lady of Guadalupe; patroness of Mexico, and beloved throughout Latin America, for her blessings and assistance.

---

Our Lady of Loreto (Loretto) Candle
Set On Our Altar

Petition Our Lady of Loreto, patron of those involved in aviation, those in search of a new home, builders, and construction workers, for her assistance in these endeavors.

---

Virgin O.L. of Mt. Carmel Candle
Set On Our Altar

Petition to Our Lady of Mount Carmel, Mary holding a scapular; a prayer to her is "never found to fail."

---

O.L. Perpetual Help Candle
Set On Our Altar

Petition Our Lady of Perpetual Help in times of trouble or need.

---

Virgin Our Lady Sacred Heart Candle
Set On Our Altar

In times of need, petition to Our Lady of the Sacred Heart; the Virgin holds the Infant, displaying His tiny flaming heart in Her hand.

---




HINDU RELIGIOUS
GLASS ENCASED DEITY CANDLES

These candles have full-colour paper labels depicting Ganesh, Kali, Durga, Siva and other Hindu deities, with information about their noted feats. They are made of soft wax in appropriate colours and will burn continually for at least 120 hours. They stay alight for many days and are appropriate for Petitions and prayers.



---




JEWISH RELIGIOUS
GLASS ENCASED NOVENA CANDLES

Text for Jewish religious candles.



---

Archangel Gabriel Candle
Set On Our Altar

God's Messenger; patron of telecommunication workers, dream interpretation, and conception.

---

Archangel Metatron Candle
Set On Our Altar

Archangel of Sacred Geometry, also believed by some to be the Archangel of the New Age.

---

Archangel Michael Candle
Set On Our Altar

Like Unto the Lord -- defender of Heaven and Earth; patron of policemen, a powerful protector.

---

Archangel Raphael Candle
Set On Our Altar

Archangel of protection to young travellers; helper and healer of the blind, patron of fishermen.

---

Archangel Uriel Candle
Set On Our Altar

Archangel of light, patron of poets, artists, and musicians.

---

King Solomon Wisdom Candle
Set On Our Altar

Burned at home while taking tests or examinations at school or work.

---

Moses Candle
Set On Our Altar

Scribe of the Torah; reputed author of the 6th, 7th, 8th, 9th, and 10th Books of Moses.

---




PLANETARY
GLASS ENCASED VIGIL LIGHTS

These candles have full-colour paper labels naming the Sun, Moon, Mercury, Venus and other planets, with information about their attributes. They are made of soft wax in appropriate colours and will burn continually for at least 120 hours. They stay alight for many days and are appropriate for Petitions and prayers.



---

Jupiter Candle
Set On Our Altar

Jupiter, Zeus, Thor; Thursday; ruler of Sagittarius; co-ruler of Pisces.

---

Mars Candle
Set On Our Altar

Mars, Twi; ruler of Aries; co-ruler of Scorpio.

---

Mercury Candle
Set On Our Altar

Mercury, Hermes, Wotan; Wednesday; ruler of Gemini and Virgo.

---

Moon Candle
Set On Our Altar

Moon, Luna, Artemis; Monday; ruler of Cancer. .

---

Neptune Candle
Set On Our Altar

Neptune, Poseidon; co-ruler of Pisces.

---

Planet Candle
Set On Our Altar

A combination of all the above.

---

Pluto Candle
Set On Our Altar

Pluto, Hades; co-ruler of Scorpio.

---

Saturn Candle
Set On Our Altar

Saturn, Kronos; Saturday; ruler of Capricorn; co-ruler of Aquarius.

---

Sun Candle
Set On Our Altar

Sun, Sol, Apollo; Sunday; ruler of Leo.

---

Terra Candle
Set On Our Altar

Terra, Gaia, Earth; our home.

---

Uranus Candle
Set On Our Altar

Uranus;Urania; co-ruler of Aquarius.

---

Venus Candle
Set On Our Altar

Venus, Freya; Friday; ruler of Taurus and Libra.

---





ZODIACAL
GLASS-ENCASED VIGIL LIGHTS

These candles have full-colour paper labels depicting Aries, Taurus, Gemini, and other signs of the Zodiac, with information about their attributes. They are made of soft wax in appropriate colours and will burn continually for at least 120 hours. They stay alight for many days and are appropriate for Petitions and prayers.



---








EMERGENCY LIGHT
4" CANDLE

We offer candle services for free and will burn a 4" candle for you with prayers at no cost.



Free Emergency Light 4" Candle
Set On Our Altar

Please request Emergency Lights by Email and inform us in a sentence or two at most for what purpose this service is intended. One small 4" altar light will burn for about an hour to cover your most immediate need. We will respond by email, letting you know that we have received your request for an Emergency Light.

Please do not telephone us for Emergency Lights.
Please do not attempt to send us photographs for use with Emergency Lights because photos can only be affixed to glass vigil candles.
We do not mail Candle Reports for these small lights.

DONATIONS

Are you a Church member or a visitor who wants to help The World's Smallest Church to stay online or contribute to one (or more) of our Church Committees?

| | |
| --- | --- |
| | If so, please click on the Paypal Secure Server logo to make a small donation to Missionary Independent Spiritual Church Candle Ministry for the creation and maintenance of this site, or to dedicate your offering to any of our Committees or fund-raising projects. |

COVID-19 CORONAVIRUS PANDEMIC:
LUCKY MOJO, HERB MAGIC, AND MISC CANDLE MINISTRY
are OPEN for MAIL ORDER, CURBSIDE PICKUP, and CANDLE SERVICES




ORDERING ONLINE FOR SHIPMENT BY USPS or UPS

We are experiencing a large increase in online orders, and most of our employees are working from home, so PLEASE ALLOW AT LEAST 7 - 14 DAYS FOR SHIPMENT. Let us know in the "Message Area" field if you will accept a "split" or 2-part shipment.

ORDERING ONLINE FOR CURBSIDE PICKUP

Local customers are not allowed to enter the store. Please order online with a note in the "Message Area" field to let us know that your order is for "curbside pickup." When the order is ready, we will phone and tell you where your package will be placed for you to pick up.

ORDERING ONLINE CANDLE SERVICES

Candle Services at the church are continuing as usual, but there may be a 7 - 10 DAY DELAY in your receipt of emailed candle reports. We apologize for the inconvenience.

USE THE LUCKY MOJO FORUM TO GET HELP

The LUCKY MOJO FORUM is the place to go for product recommendations, help with spells, and connection with the hoodoo community online. The Forum is open 24/7 and is free to join.

The Lucky Mojo Curio Co., Herb Magic, and
The Candle Ministry at Missionary Independent Spiritual Church

OUR WEB SITE

Missionary Independent Spiritual Church can be found on the world wide web at

http://www.candleministry.com
and
http://www.missionaryindependent.org