CHURCH CYBER-HYMNAL COMMITTEE REPORT
07-01-08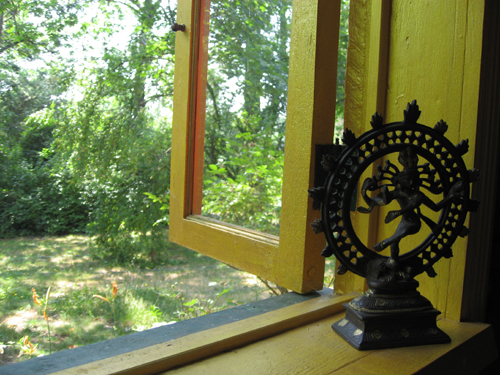 SIVA IN THE EAST WINDOW AT MISSIONARY INDEPENDENT SPIRITUAL CHURCH
On June 22nd, 2008, we established a committee whose job it shell be to collect and render usable to church visitors a cyber-hymnal. This group will function as an adjunct to the

Missionary Independent Spiritual Church Gospel Playlist Committee

whose duty it is to list renditions of Gospel songs that can be downloaded by purchase at public music sites.

This is a call for volunteers who are familiar with old-style church hymns and gospel music, and/or who are experienced with handling digital audio files and typesetting for pdf files. The job of this committe is

(1) To select suitable hymns from cyberhymnal.org and create a file-list of their URLS. (If no one else volunteers, this job can be performed by Sister cat alone, but she would like company and help.)

(2) To acquire professionally performed MIDI files, primarily through the services of cyberhymnal.org (with their permission and with full credit to them) and to download these files to a CD for use in the Church, as well as uploading them to the web for play at the Church web site.

(3) To download lyrics for the selected hymns and gospel songs from cyberhymnal.org (with their permission and with full credit to them) and to convert these lyrics to typeset format, and thence to pdf form files, uploading them to the web for vieweing at and downloading from the Church web site.

(4) If a professional musican volunteers, and feels it would be worthwhile, to include sheet music forms of the hymns, which are also available at cyberhymnal.org.

The cost of this project is virtually nil, and it can be undertaken by an all-volunteer committee working in group meetings via Skype or The Conference Line.

If you would like to join this committee, please call the Church at 707-887-7808 and ask for Sister cat.
DONATIONS

Are you a Church member or a visitor who wants to help The World's Smallest Church to stay online or contribute to one (or more) of our Church Committees?
If so, please click on the Paypal Secure Server logo to make a
small donation to Missionary Independent Spiritual Church
for the creation and maintenance of this site, or to dedicate
your offering to any of our Committees or fund-raising projects.

OUR WEB SITE

Missionary independent Spiritual Church can be found on the world wide web at