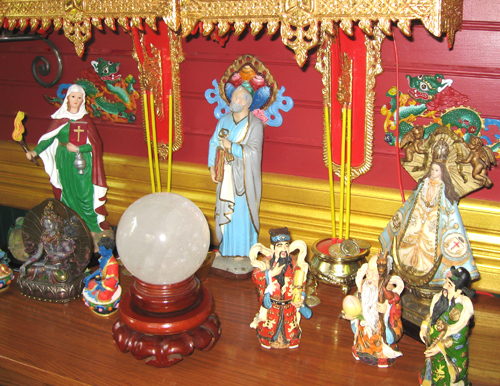 ALTAR TABLE AND CRYSTAL BALL AT
MISSIONARY INDEPENDENT SPIRITUAL CHURCH
THE TRADITION OF SPIRITUAL READINGS
For as long as our church has existed, we have offered the services of private readers and counsellors to our associates and to the general public. We offer a variety of services, including tarot reading, palmistry (hand reading), pendulum readings (for yes / no questions), and spiritual consultations during which we will advise you on the matters closest to your heart.
Our church is founded upon the belief that Spirit reveals truths to Humanity, and that inspired prophets, mediums, diviners, and seers render valuable spiritual aid and guidance to our parishioners and the public. In keeping with these values, we make the church building available, as a quiet sanctuary and temple, to those who offer their services as readers to the public, by appointment or on a drop-in basis, for the use of readers and spirit mediums who work in person and/or by telephone.
Readers currently available at the church include sister catherine yronwode (the church's pastor, available Wednesdays through Fridays, by appointment only, with occasional room for drop-ins), Elvyra Curcuruto (Mondays through Wednesdays by appointment or on premises), and Miss Phoenix (Sundays through Thursdays by appointment, via telephone or on premises).
HOW TO PRE-PAY FOR A SCHEDULED
TELEPHONE OR IN-PERSON READING:
STEP 1: Select the reader with whom you wish to work.
STEP 2: Determine whether to book ahead using the Bookeo button or schedule via any phone number provided for the desired date. Pay via the methods described by the particular reader's specifications.
HOW TO PAY ON THE SPOT FOR YOUR IN-PERSON READING
When you arrive, please pre-pay. Cash is the most convenient method to use for an in-person reading, although checks will be accepted from known, long-time clients, of course.
Remember, although drop-in readings may sometimes be available, it is more reliable to schedule your in-person reading in advance via the reader's online or phone booking arrangements.
CANCELLATION AND RESCHEDULING:
If you wish to cancel or reschedule a reading, you must give us 24 hours notice via the Bookeo website. Consult the email that you were sent when you received a confirmation that you'd been booked.
Cancellations with less than 24 hours notice, as well as no-shows, will not be refunded.
Rescheduling must be done at least 24 hours prior to your appointment, to allow us time to fill the vacancy you have made in our schedules. Attempts to reschedule with less than 24 hours notice are not valid and will be treated as cancellations or no-shows.
OUR SPIRITUAL READERS
We have four Spiritual Readers on the premises to serve you. Miss Elvyra reads for the public at the church on Mondays through Wednesdays, Rev. catherine reads Wednesdays through Saturdays, and Miss Phoenix reads Sundays through Thursdays, though they may use the church for their readings when available otherwise.
• REV. CATHERINE YRONWODE

Tarot, Palmistry, Psychometry,
Pendulum, and Tea Leaf Readings;
Spiritual Consultations; Amulets,
Practical Advice for Daily Life
Catherine is a root doctor and teacher of hoodoo, conjure, and magic.
Wednesday - Sunday by appointment; via telephone or on premises.
Book a reading with Miss cat
Due to the high volume of demand for Miss cat's readings, we advise you to schedule in-person readings in advance and not on a drop-in-basis.
• ELVYRA CURCURUTO-LOVE

Tarot, Pendulum, Psychometry, and
Spiritual Intuitive Counseling
Elvyra is a practitioner of the ancient wise ways. She does Magikal coaching, Hawaiian and Western European geomancy for realignment of home and work spaces. As a Fire Druii High Priestess, she works with co-casting primarily using the fire element, but weaving the elements of air, earth, and water.
Monday - Wednesday by appointment; via telephone or on premises.
Book a reading with Miss Elvyra
Due to the high volume of demand for Elvyra's readings, we advise you to schedule in-person readings in advance and not on a drop-in-basis.
• MISS PHOENIX

Tarot, Pendulum, Rootwork Consultations,
Spiritual Counseling, Magickal Coaching
Phoenix is an eclectic practitioner with a working experience in a wide variety of faiths and traditions. She is an initiate of the Avalon Druid Order and a current teacher in the Reclaiming Tradition. She offers several different modalities in her reading options.
Sunday - Thursday by appointment; via telephone or on premises.
Book a reading with Miss Phoenix
Due to the high volume of demand for Miss Phoenix's readings, we advise you to schedule in-person readings in advance and not on a drop-in-basis.
WHAT TO EXPECT FROM A SPIRITUAL READER, DIVINER, OR ROOT WORKER
Whether or not you have ever had a spiritual reading performed on your behalf, we invite you to read about the process. If this is your first time to get a spiritual reading, we urge you to read and learn about what you can expect from this traditional form of divinatory service.
READERS, ROOT WORKERS, AND BLACK GYPSIES: WHAT TO LOOK FOR IN A SPIRITUAL PRACTITIONER
This article provides information on traditional reading techniques and also teaches you the warning signs that will help you distinguish genuine seers, prophets, mediums, or readers from psychic fraudsters.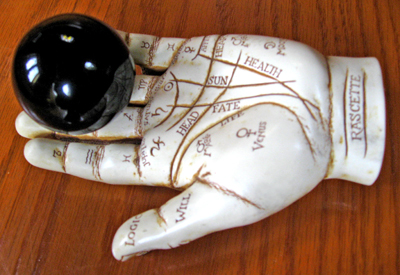 MISS CAT'S PALMISTRY MODEL HAND
AND OBSIDIAN SCRYING BALL
HOW YOUR READINGS SUPPORT OUR CHURCH
Spiritual workers and practitioners who give readings in the church generally charge for their services, as is traditional in our community, and, for use of the space, they pay a small "table fee" to the church (this is similar to the chair fee in a barber shop, or the rental fee for use of a church meeting room).
As "The World's Smallest Church," we have one table and two chairs before the altar -- a perfect setting for a quiet, intimate reading in sacred space. The table fee for those who utilize our sanctuary for their work is 15% of what they earn while they occupy the building.
Table fees thus collected are fund-raisers used by the church for the purchase of supplies, maintenance of the building, payment of utilities and telephone, and to support our internet and printed literature outreach programs.

Member of AIRR: the Association of Independent Readers and Rootworkers
The Association of Independent Readers and Rootworkers (AIRR) is a gathering of professional practitioners of African American folk magic, hoodoo, conjure, and rootwork who provide psychic readings and spiritual root doctoring services to the public. AIRR promotes quality service and ethical conduct by means of accreditation and evaluation of our members. Unlike commercial online psychic reader services, AIRR is a membership-supported organization that receives no fees or kickbacks for referrals.